Read two stories that show why investing in our community benefits us all
Here at Aladdin Storage, we love our local community! So as we celebrate America's birthday this week, let's take a moment to recognize one of the things that makes our country so special – the way we come together to help others.
That's why we're sharing two stories with you – one from last month, and one we won't soon forget.
Dump the Chaos - a Success!
One June 8th, we held our second fundraising event benefiting Animal Care Society, Louisville's first no-kill animal shelter - Dump the Chaos.
At Dump the Chaos, we challenged YOU to bring out your trash last month, and you certainly answered! Despite a rainy start, the day took our dumpster from empty to overflowing giving you a chance to fill it with everything from yard waste to large appliances. In addition, we had property tours, prize drawings, and delicious BBQ provided by locally-owned Fired Up BBQ.
We had a wonderful time getting to know our neighbors. Plus, with your help, we doubled the amount raised for Animal Care Society from our last event.
Did you miss the fun? Don't worry – Dump the Chaos will be back in October! Plus - if you own a local business please consider sponsoring the event. Your company name will be prominently displayed on property for all guests to see, and of course it's for a wonderful cause. Interested in learning more? Contact us at hello@aladdinselfstorage.com or (502) 241-7200.
An Unexpected Treasure Returned to War Hero's Son
In 2013, Facility Manager Stephanie Kalbaugh and her husband David made a surprising discovery in our office storage unit: a collection of World War II medals, including a Purple Heart.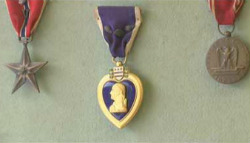 "Our first reaction was to find out who they belonged to and try and get them back to the rightful owner," Stephanie explains. But this was easier said than done. The medals had a name: Anthony Grunder, who would have been in his 90's at the time. They tried searching records but had no luck. Then, they displayed the incredible collection in the Aladdin office.
"This drew in customers, particularly military vets, to stop by and see them, and then they'd tell their own stories of their time in the service," Stephanie recalls. "It was really emotional."
After several months, Stephanie and her husband decided to contactthe local news station, WAVE3. When WAVE3 ran the story, Louisville resident Tony Grunder, Anthony's son, was watching. Mr. Grunder lived only ten minutes from Aladdin, and was thrilled to see the medals returned to his family.
Today, a photo of war hero Anthony Grunder is proudly displayed in our office, reminding us of the power of coming together to help one another and honor those that have served our country.
Read more about this inspiring story here.